RRR Trailer Review: So, I stumbled upon YouTube today and saw this new trailer of a film called "RRR". The video instantly caught my attention as it is marked as "Trending" within an hour of its release. The film is an Indian-based period action drama film directed by S. S. Rajamouli, the one who directed the highest-grossing film Bahubali. Therefore, I watched it without giving second thoughts.  Before revealing my honest review of the trailer, here are some interesting facts about the film that made YouTube and Twitter India go frenzy today.
1
RRR Cast: Multi-Lingual, Multi Star-Studded Cast
Roudram Ranam Rudhiram aka RRR is an upcoming Telugu film with a star-studded cast. The multi-lingual movie boasts multi-stars from various languages including Telugu, Hindi, Tamil, and even from outside India as well.  Ram Charan Tej and Jr.NTR took the main roles in this film. They are at top of their game right now. Above all, they were paired up with Olivia Morris and Ali Bhatt. Apart from these, RRR has a long list of actors including Alison Doody, Ajay Devgn, Ray Stevenson, Shriya, and Daisy Edgar Jones.
2
RRR Budget: It's a Mega Budget Film
According to some reports, RRR is made on a budget of ₹400 crores (Approx US$53 million). If rumours are true, RRR even crossed the budget of bahubali which was made in two parts. Therefore, making it the highest budget film ever made in India. RRR is also ushering in a new wave for Indian cinema which looks to match up to international standards.
3
RRR: It Took Years of Making
In addition to being the highest budget film, RRR took a total period of 3-years in making. The film was formally announced in March 2018. However, due to the ongoing pandemic, the film went through a long schedule and was completed in 2021. Above all, the film was shot extensively across India, with a few sequences in Ukraine and Bulgaria.
4
RRR: A Periodical Fantasy
This movie was directed based on a story written by K. V. Vijayendra Prasad, father of Rajamouli. The film narrates the incidents that happened in the lives of Rama Raju and Bheem. They were both considered eminent freedom fighters who had chosen revolutionary paths in the Indian freedom struggle. Although, they did not meet their ways, in reality, the thought that how they could have been friends during their formative years inspired Rajamouli to make this film.
Note: This review is entirely my opinion. Anything and everything covered in this post is entitled to me. They were not endorsed by anyone or biased. Please make a note of it before going through the review.
RRR Trailer Review
The trailer of RRR opens with the atrocities made by Britishers during the period of the Indian freedom struggle. The opening visuals look stunning with the opening sequence concentrating on showcasing the heroic nature of Bheem (Jr.NTR). According to the sequence, he was shown as a tiger that hunts bad people. Even the sequence where he battles up against a real CG emulated tiger looks nerve-racking and spell-bounding. The expressions portrayed by him were right on the mark.
The most intriguing part of it is the background score that went through the opening sequence.
Credits: DVV Entertainment
Then comes the introduction of Ram Charan Tej who was showcased as a hunter. He portrayed the character of police who works under Britishers in the victorian era. However, if my assessments are correct, he might change into a full-fledged freedom fighter after witnessing the atrocities of Britishers. Although the visuals are good, his sequence lacks something unique. In my opinion, Jr.NTR's sequence overshaded his co-star. However, it went balanced once Ramcharan Tej transitioned into a full-fledged freedom fighter.
Shooting arrows in a slow-mo out of blasting fire is absolutely breathtaking and visually appealing.
When it comes to the other parts, the trailer nailed in showcasing the freedom struggle. Director showcased everything from drama, sentiment, and pain during the late 19th century. Every frame in the trailer showcased the production values of the film. Both of the actors overshaded everything and everyone in the trailer.
The fight sequences might become the asset of this film. Everything looks stunning in slow-motion
However, the most disturbing thing about them and well the entire trailer is the lack of basic physics in making. It's a fact that movies don't usually take physics into the account. However, I think par-taking the rudimentary physics principles while making won't kill the mojo of the movie, I guess? It brings a kind of a sense and meaning to the making.
RRR Trailer Review: Final Words
I know people love watching fantasies and over-the-top portrayals of their favorite actors. However, there is a boundary to everything and when it was crossed, the visuals will return a kind of, "Does that make any sense?" effect. The same thing happened to RRR.
The trailer transitioned from having the feeling of "Wow" to "WTF is this?" in a matter of seconds due to the lack of considering rudimentary physics.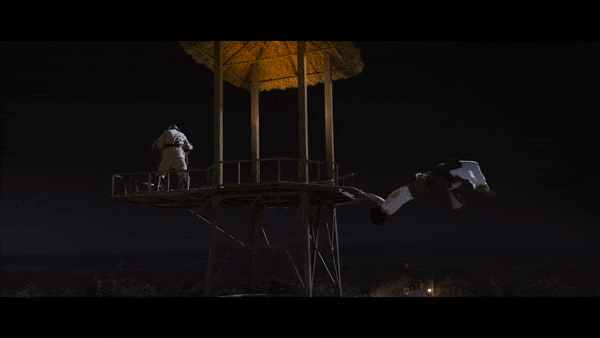 Credits: DVV Entertainment
Final Words
I loved everything about the trailer. However, it would've been more epic, if some things showcased in the trailer makes sense. Overall the trailer is good and I can't to watch it on big screens.
Action/Fight Sequences
6.2
PROS
Stunning Visuals
Background Score
On-screen Narration
Good Transitions
No Absolute Spoilers
CONS
Lack of Physics.
Over-the-top fight sequences